Reverse Room
The Reverse Room was a room that appeared in the Pre-Alpha of Hello Neighbor.
Gameplay
The reverse room served no real purpose. It was a normal living room type area, but all the furniture was on the ceiling and the light was on the floor. The room had no puzzle behind it, though it had a small upside-down door on the wall which didn't do anything. There was two doors leading into the room, one which was locked and the other blocked by a wardrobe. The wardrobe couldn't be moved and had a camera facing at it, and since the other door was locked, you could only get in through the window by breaking it.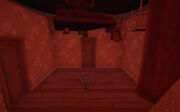 However, after breaking it open, the neighbor would come and randomly glitch into the room opening the locked door from the inside of the room. If you were able to get into the room unseen, you would only find a lightbulb on the upside down dresser that could be put into the light socket on the floor. After putting the bulb in and turning the light switch on, the room would glow red from the light bulb. Other than this, there was nothing notable in the room and there was no use to the Reverse Room. It was never implemented or a made any return at all in future builds, so this room was a Pre-Alpha exclusive.